EMA MDF – Current Contributors
EMA's Marketer Defense Fund wants to thank the following individuals for contributions during October 1- 31 timeframe:
Arizona: Arizona Petroleum Marketers Association
California: Mike Downs
Colorado: Grier Bailey
Connecticut: Rick Bologna
Florida: Bill McKnight
Louisiana: Darrel McCartney
Maryland: Brad Fulton
Michigan: Bob Hohn
Mississippi: Philip Chamblee
Missouri: Jim Maurer
Nebraska: Doug Coziahr
NECSEMA: Tom Frawley
New Mexico: New Mexico Petroleum Marketers Association
New York: Jason Mirabito
Oregon: Oregon Fuels Association
Pennsylvania: Douglas Woosnam
Tennessee: Mark McBride, Emily LeRoy
Washington: Washington Independent Energy Distributors
Wisconsin: Matt Hauser
Wyoming: Mike Bailey
Corporate donations are acceptable. Part of the monies raised for MDF are used for various studies, litigation and disaster relief dedicated to strengthening our lobbying efforts on Capitol Hill. Click here to donate to the EMA MDF.
Marketers Defense Fund
EMA Current Updated Priorities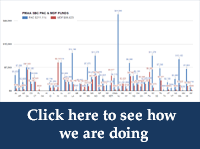 Related:
EMA SBC PAC