EMA MDF – Current Contributors
EMA's Marketer Defense Fund wants to thank the following individuals for contributions during the May 1- 31, 2022 time frame:
Arkansas: Steve Turner
California: Ed Ward
Connecticut: David Foster
Georgia: Tommy Thompson
Iowa: John Maynes
Louisiana: Frank Marcello
Michigan: Robert Hohn
Nevada: Peter Krueger
New Jersey: Susan Hammond
New Mexico: New Mexico Petroleum Marketers Association
North Dakota: Mike Rud
Oregon: Sam Byrnes, Oregon Fuels Association
Pennsylvania: Amy Highhouse
Tennessee: Emily LeRoy, Shirley Woodcock
Virginia: Lewis Wall Jr.
Washington: Brad Bell, Chris Eerkes, Washington Independent Energy Distributors
West Virginia: Dennis Thompson
Corporate donations are acceptable. Part of the monies raised for MDF are used for various studies, litigation and disaster relief dedicated to strengthening our lobbying efforts on Capitol Hill. Click here to donate to the EMA MDF.
Marketers Defense Fund
EMA Current Updated Priorities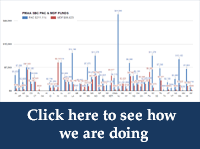 Related:
EMA SBC PAC