EMA MDF – Current Contributors
EMA's Marketer Defense Fund wants to thank the following individuals for contributions during the August 1- 31 timeframe:
Colorado: Brian Haldorson, Colorado Petroleum Marketers and Convenience Store Association
Louisiana: Darrel McCartney
Missouri: Stephen Ayers
Oklahoma: Candace McGinnis
Tennessee: Tennessee Fuel & Convenience Store Association
Texas: Bobby Warren
Wyoming: Shelly Ellenbecker
Corporate donations are acceptable. Part of the monies raised for MDF are used for various studies, litigation and disaster relief dedicated to strengthening our lobbying efforts on Capitol Hill. Click here to donate to the EMA MDF.
Marketers Defense Fund
EMA Current Updated Priorities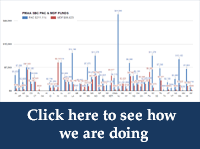 Related:
EMA SBC PAC