Small Business Committee PAC
The Small Business Committee (SBC) is a political action committee (PAC) funded by voluntary contributions from marketers across the country. PMAA regularly reports the activities of the PAC (as required by law) to the Federal Election Commission (FEC) and information about that activity is available to the public. Your contribution to the EMA SBC PAC will:
Help elect individuals who are supportive of small business and independent energy marketers;
Support EMA's legislative and regulatory agenda;
Remind legislators that energy marketers are a political force;
Recognize the unique aspects of the jobber/distributor class of trade and of oilheat dealers;
Enable EMA to say "yes" when supportive candidates ask for our help;
Assist EMA to stand up to organizations that represent interests contrary to those of independent energy marketers and which are now actively building campaign war chests to defeat pro-small business candidates.
Personal contributions are limited to individuals who are members of a EMA Member Association. Contributions to the SBC PAC are not tax deductible.
       EMA SBC PAC
PAC Cookbook
        – Sample
        – Order Form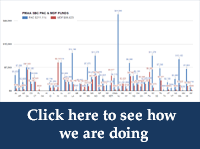 Related:
Marketers Defense Fund