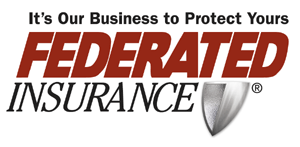 Federated Insurance's mission statement clearly defines the company's commitment to its clients to protect not only their businesses, but their peace of mind: As a mutual insurance company, we believe our value is measured by the success of our clients. It's Our Business to Protect Yours®
Hundreds of trade associations and buying groups, including many state, regional, and national petroleum marketer associations, recommend one or more of Federated's programs to their members.
Federated's Petro Shield® is a commercial property and casualty insurance program developed with help from industry trade associations and business owners like you. Additionally, new risk management tools and loss prevention programs are continually being developed to address the petroleum industry's specific concerns.
Federated's insurance products and services* can meet virtually all your business and personal insurance needs.
They offer:
Property and casualty coverage
Workers' compensation coverage
Life and disability income insurance
Risk management services

Risk Management Resource Center, remote loss prevention consultation provided by trained risk consultant
Federated Employment Practices Network® offers anytime access to human resources support materials and independent employment law attorneys
mySHIELD®, an online client portal for risk management resources

Business succession and estate planning assistance
Federated Insurance Risk Management AcademySM training seminars
Major Client Service Standards provide frequent opportunities for you to meet with your local marketing representative to help him or her understand and review your business insurance and risk management needs, which helps coordinate the insurance coverage and loss control programs best suited for you.
* All coverages and services may not be available in all states or for all businesses.
Federated's more than 500 marketing representatives provide personalized, value added products and services to clients. The Company operates in 48 states and the District of Columbia, and has several service offices located across the country.
Contact: Jon Medo
Federated Insurance
121 East Park Square
Owatonna, MN 55060-3046
800.533.0472
Web: www.federatedinsurance.com/association-groups/ema
Now there are more ways to connect with Federated Insurance®! Click the icons below to follow us on LinkedIn® and Twitter, then spread the word to your members and business associates!