Altria Group Distribution Company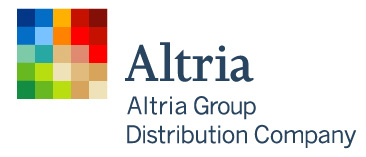 Altria's wholly-owned subsidiaries include Philip Morris USA Inc. (PM USA), U.S. Smokeless Tobacco Company LLC (USSTC), John Middleton Co. (Middleton), Sherman Group Holdings, LLC and its subsidiaries (Nat Sherman), Ste. Michelle Wine Estates Ltd. (Ste. Michelle) and Philip Morris Capital Corporation (PMCC). Altria owns an 80% interest in Helix Innovations LLC (Helix). Altria holds equity investments in Anheuser-Busch InBev SA/NV (ABI), JUUL Labs, Inc. (JUUL) and Cronos Group Inc. (Cronos).
The brand portfolios of Altria's tobacco operating companies include Marlboro®, Black & Mild®, Copenhagen®, Skoal® and on!® . Ste. Michelle produces and markets premium wines sold under various labels, including Chateau Ste. Michelle®, 14 Hands® and Stag's Leap Wine Cellars™, and it imports and markets Antinori®, Champagne Nicolas Feuillatte™ and Villa Maria Estate™ products in the United States. Altria Group Distribution Company (AGDC) is an Altria subsidiary that provides sales, distribution, and consumer engagement services to Altria's tobacco companies. AGDC focuses on increasing efficiency and helping these companies better connect with adult tobacco consumers and strengthen relationships with thousands of retailers and wholesalers nation-wide. AGDC designs and executes trade programs to grow Altria's tobacco companies' businesses and their customers' businesses.
Contact:
Amber Moore
205-826-2450
Amber.N.Moore@altria.com
www.altria.com