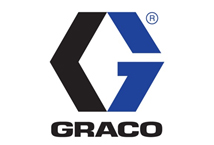 Established in 1926, Graco has built a worldwide reputation for high quality, reliable and technically advanced products, world-class manufacturing and outstanding customer service. Headquartered in Minneapolis, Minnesota, Graco works closely with distributors around the world to offer innovative products that set the quality standard for spray finishing, paint circulation, lubrication, sealant and adhesives dispensing, process application and contractor power equipment. These best-in-class products are manufactured in the U.S. and China and supplied through our distribution centers around the world. Every day, Graco's fluid-handling equipment and systems move, measure, mix, control, dispense and spray a variety of fluids and materials.
From the first air-powered grease gun to our industry-leading Fire-Ball pump, Graco's Lubrication Equipment Division is what started it all. We manufacture equipment to monitor, control, manage and dispense fluids. Offering innovative equipment for all your vehicle services, industrial and automatic lubrication needs. We offer a full range of high-quality pumps, meters, valves, hose reels and accessories to increase production and reduce waste and downtime.
Graco offers reliable, high-quality equipment you can depend on for fuel, diesel, antifreeze, oil and grease. Our versatile fluid inventory control and management systems are designed to accurately track the use of oil, grease and other fluids at vehicle maintenance and industrial facilities, and our lubrication equipment ensures you deliver fluids to the right spot in your facility. From light-duty applications to high-performance concepts designed for heavy-duty jobs, our equipment is known for its rugged, durable and long-life design.
Use Graco Auto Lubrication Systems to enhance uptime, improve productivity and reduce maintenance costs in any environment. Always innovating, Graco offers a comprehensive collection of pumps, metering valves, controllers and accessories for accurate and timely lubrication for today's modern, information-rich users — all backed by Graco's trusted name and responsive A+ customer support.
For more information, visit our website at graco.com or contact:
1201 Lund Blvd
Anoka, MN 55303
John Tate
Phone: 612.656.7870
Email: jtate@graco.com
Web: www.graco.com