EMA MDF – Current Contributors
EMA's Marketer Defense Fund wants to thank the following individuals for contributions during the May 1- 31, 2021 timeframe:
Connecticut: David Foster
Florida: Ed Hinson
Iowa: Glenn Hasken
Michigan: James O'Connor
North Carolina: John Fuquay
North Dakota: North Dakota Petroleum Marketers Association
Virginia: Lewis Wall Jr.
Washington: Steven T. Clark
Corporate donations are acceptable. Part of the monies raised for MDF are used for various studies, litigation and disaster relief dedicated to strengthening our lobbying efforts on Capitol Hill. Click here to donate to the EMA MDF.
Marketers Defense Fund
EMA Current Updated Priorities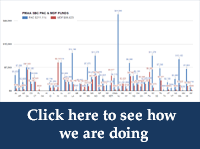 Related:
EMA SBC PAC